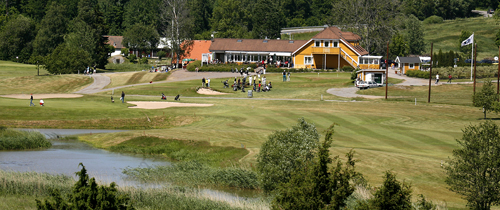 Söderköpings Golf Club is a well known and popular 27 hole course. The first 18 holes with parkland layout known as "the old course" opened for play in 1989 with lakes and pine forrest coming into play. It stretches almost 6000 yards from club tee but plays short and easy from the ladies tee.
Another 9 holes called "the new course" opened for play 2004 and is more of an in-land-links course located right by the famous Göta Canal.
Facilities
Clubhouse and restaurant with a beautiful view over the finishing 18th hole. Conference room for up to 40 persons. Changing rooms with showers. A complete golfshop with three PGA professionals and a top class driving range.
Location
The course is located nearby the two cities Norrköping and Söderköping on the east coast of Sweden and just 2 hours from our capital Stockholm. There are three airports located within one hour from the golfcourse, Linköping City Airport,  Norrköping Airport and Stockholm Skavsta Airport.
The Göta Canal
The Göta Canal was one of the largest civil engineering projects ever undertaken in Sweden. The Canal stretches from Sjötorp on Lake Vänern to Mem on the east coast. It has a length of 190 kilometres and a total of 58 locks. Of this distance, 87 kilometres are man-made. The lakes through which the Canal passes make up 103 kilometres of its length. www.gotakanal.se
Söderköpings Golfclub
Hylinge Golfbana
SE-605 96 Norrköping
Telephone: +46 (0) 11-705 79
Website: www.soderkopingsgolf.se
Add favorite