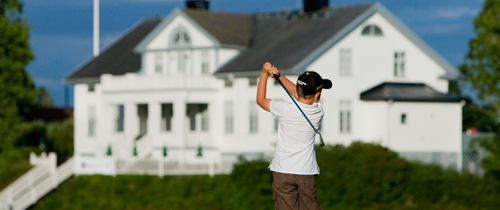 27 holes and nine short holes. Driving range, golf shop and practice ground. A green 'oasis' right at Bråvikens water.
Centrally located near both the city of Norrköping and Kungsängens airport.
The golf course is located in a very varied and scenic terrain with many streams and rivers dividing the fairways and surrounding the large greens.
Bråvikens golfklubb is yearly host for VW Söderbergs Laides Master, a much appreciated competition at Nordea Tour, this year the professionals will compete between 5 and 7 of august.
The course has 27 holes in three loops. Each loop with its own special character. On most holes there are five different tees at different levels. There is also a par 3 hole on the nine holes.
Or check out the restaurant in the manor house, which also provides conference facilities for both large and small groups.
Bråvikens Golfclub
Manheims Säteri
SE-605 91 Norrköping
Telephone: +46 (0) 11-34 00 41
Website: www.bragk.se
Add favorite